MIRA
PROJECT DETAILS & CREDITS
Thesis Mentor: Sarah De Gaudemar
Media/Format: Stop-Motion Animation
Collaborators:
Musical Direction + Film Score (written and performed by):Calvin Arsenia
Composer, Mira's Accordion Theme (written and performed by): Erica Marie Mancini
Rhythmic Bones, Lore's Theme (Performed by): Simon Huntley
Fabrication Assistants: Chris Dong, Theodore Bunch
Ready to quit her dreams of becoming a celebrated accordionist, busking day after day for a swamp metropolis that isn't listening, young Mira finally gets a taste of recognition one evening when she meets Lore, a mysterious and successful singer who takes an interest in Mira's talents.
Giving in to Lore's charm and status, Mira finds herself playing hostess to the charismatic performer as her guest's self-serving behaviors make her increasingly unsettled in her own home. Mira's desire for approval from this elevated musician leaves her blinded to Lore's hidden intentions until her apartment begins changing around her and her anxieties spiral out of her control. Her inability to confront and remove the ever-dangerous Lore proves to have monstrous consequences once Lore shows her true sinister nature—that she is not the musical ally that she initially presents to Mira but a water demon who needs to scavenge and carve out a place for herself by taking advantage of others.
After Mira tries to escape, Lore cruelly adheres her to her beloved accordion, adhering her arms to the instrument's keys and sewing her lungs to the accordion's bellows. She must keep playing the instrument in order to breathe. Mira, entrapped by this demonic entity, is left with her home and sense of self forever changed. Stop-motion animation is used to bring to life this haunting surrealist horror film about the dangers of finding self-worth through the sacrifice of self.
Eva Louise Hall
is an animator, filmmaker, fabricator and performer in the Kansas City area. Through her various personal and commercial works as a visual storyteller, Eva seeks to create unique narrative experiences that engage audiences, inspire participation, and build community. As an interdisciplinary artist, her recent work involves giant puppetry, multimedia performance, set building, animated and live action film production, and arts education.
Instagram:
@theseacircus
Website:
evalouisehall.com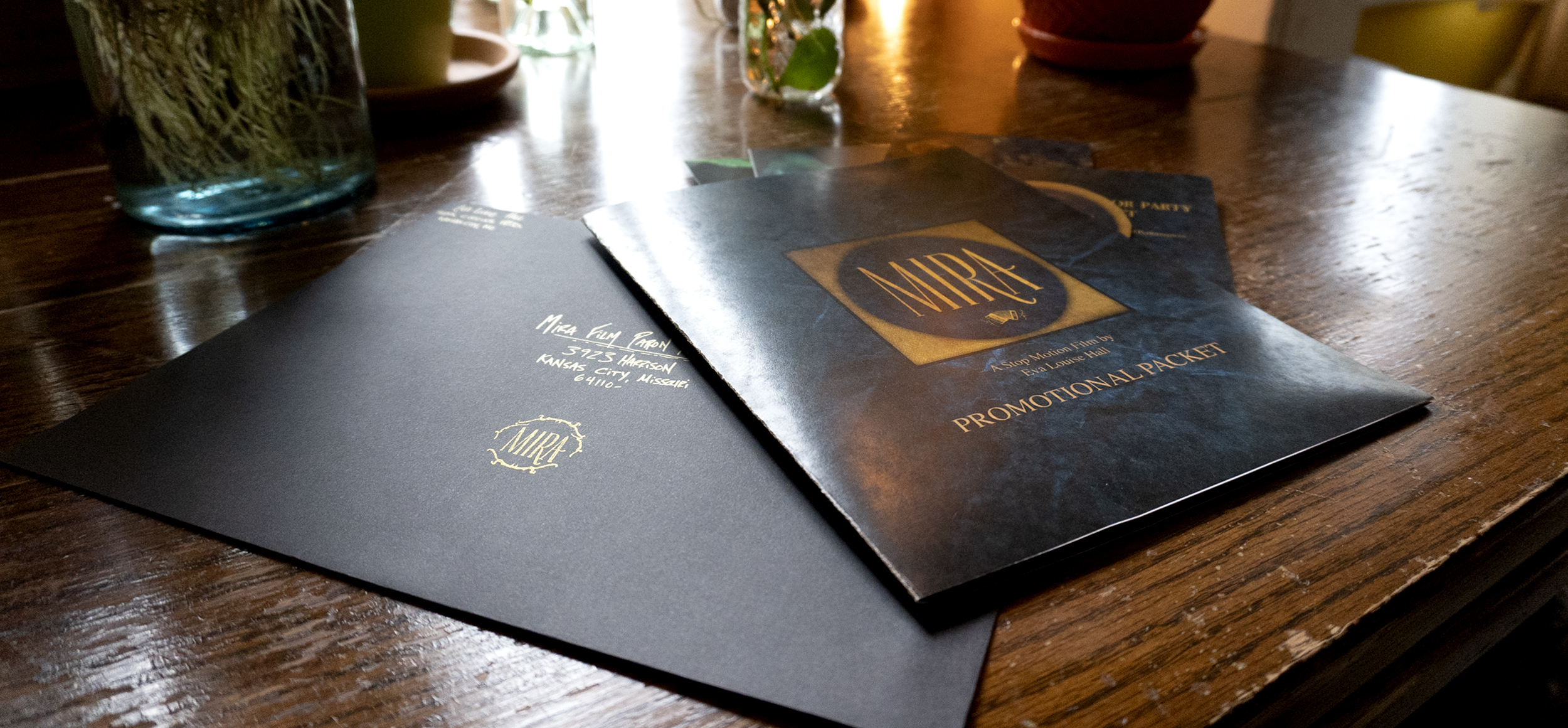 For this community project I created interactive promotional packets to engage my GoFundMe backers that made the creation of this film possible through their financial support. A lot of these donors are made up of my Kansas City arts community as well as an international community of animation and stop motion enthusiasts. These are communities that are made up of folks who appreciate immersive storytelling devices, theatrical fabrication and live performance. They gravitate towards and appreciate intimate and tactile experiences.
After launching this campaign last March, I wanted to express gratitude for their support while engaging them in a new, different and safely distant way. In the currently over-saturated digital communication landscape, I didn't want to simply offer them a digital download or a website link. I wanted to offer something physical that could create a memorable interaction between my audience and the characters and world within my film. My intent with this promotional package is to get those who interact with it excited and invested in watching the final film and to give them a unique and innovative animated art experience.
For this community project my goal was to investigate ways I could engage and create a memorable interaction between my film and both my audience given that events, screenings and special happenings are postponed during the pandemic. I created this promotional packet with AR interactivity (using the Artivive app) so that I could bridge the divide between physical object and digital, time-based media. Several items within the packet (noted by the Artivive icon) can be scanned by a smart phone and reveal exclusive animated sequences, hidden images and audio that give hints to the ending of the film and a unique link to the film's teaser trailer. All viewers need is to download the Artivive app and scan the correct images – which can be either printed or digital (see below). This interactivity allows me to showcase my musical collaborators, expands the world of the film into the audience's physical space and allows my puppets and sets to be exhibited in a more dimensional context.