Periwinkle and the Lost Treasure

Maura Condrick









PROJECT DETAILS
Thesis Mentor: Kazu Kibuishi
Format: Graphic Novel


---
When a human child survives a shipwreck, she is magically transformed into a singular sea creature by a gentle cuttlefish who raises her as her own. Now called Periwinkle, the child is torn between the love of her adoptive family and her curiosity about the mother who lost her long ago. As Periwinkle struggles with her identity and her place in the world, she is forced to make difficult choices in order to protect her fish family from her biological mother—a marauding pirate wreaking havoc as she searches for her lost treasure. Peri's struggles are further complicated when the commotion in her undersea mountain town disturbs the century-long sleep of giant, cranky sea monsters.








Maura Condrick
is an award-winning story artist, character designer, and art professor working in comics and animation. She studied Fine Arts at Boston University and graduated with a BFA in Illustration from Massachusetts College of Art and Design. Maura recently earned her MFA in Visual Narrative from the School of Visual Arts (2021).
Raised in a small beach town in Massachusetts, Maura has lived in Boston, New York City, and Los Angeles. Her debut graphic novel is inspired by living close to the sea and explores universal themes of nurture versus nature, parent-child relationships, and personal identity. She hopes to connect with her audience through humor and our shared humanity.
INSTAGRAM:

instagram.com/mauracondrick


TWITTER:

twitter.com/MauraCondrick


WEBSITE:

www.condrick.com
SELF PORTRAIT AS A SEA MONSTER
This workshop is an opportunity for kids to experience creative expression and empathy, by connecting with the physical and emotional world of fish. It was inspired by my story about a young girl who is part human and part fish, and struggles with her conflicting human feelings and fish body characteristics (ex: when she gets mad, she turns colors like a cuttlefish).

As kids create their characters they can choose whether to make them pointy when frightened like a puffer fish or wanting some privacy like a garden eel. Maybe they're cute and colorful but poisonous like a nudibranch or sharp and bitey like a shark.

We'll look at some imaginary sea characters like mermaids and sea monsters for inspiration, and I'll show my process of creating my character, Periwinkle, from research and character development, to sketches and full color.
RESEARCH AND REFERENCE
Using photos for reference, we'll look at some specific fish for inspiration, learning how their shapes, textures, and even colors help them survive in the ocean.

I'll create a couple of characters based on class feedback and the kids will create a character based on themselves (or a friend), mixed with some of their favorite fish attributes.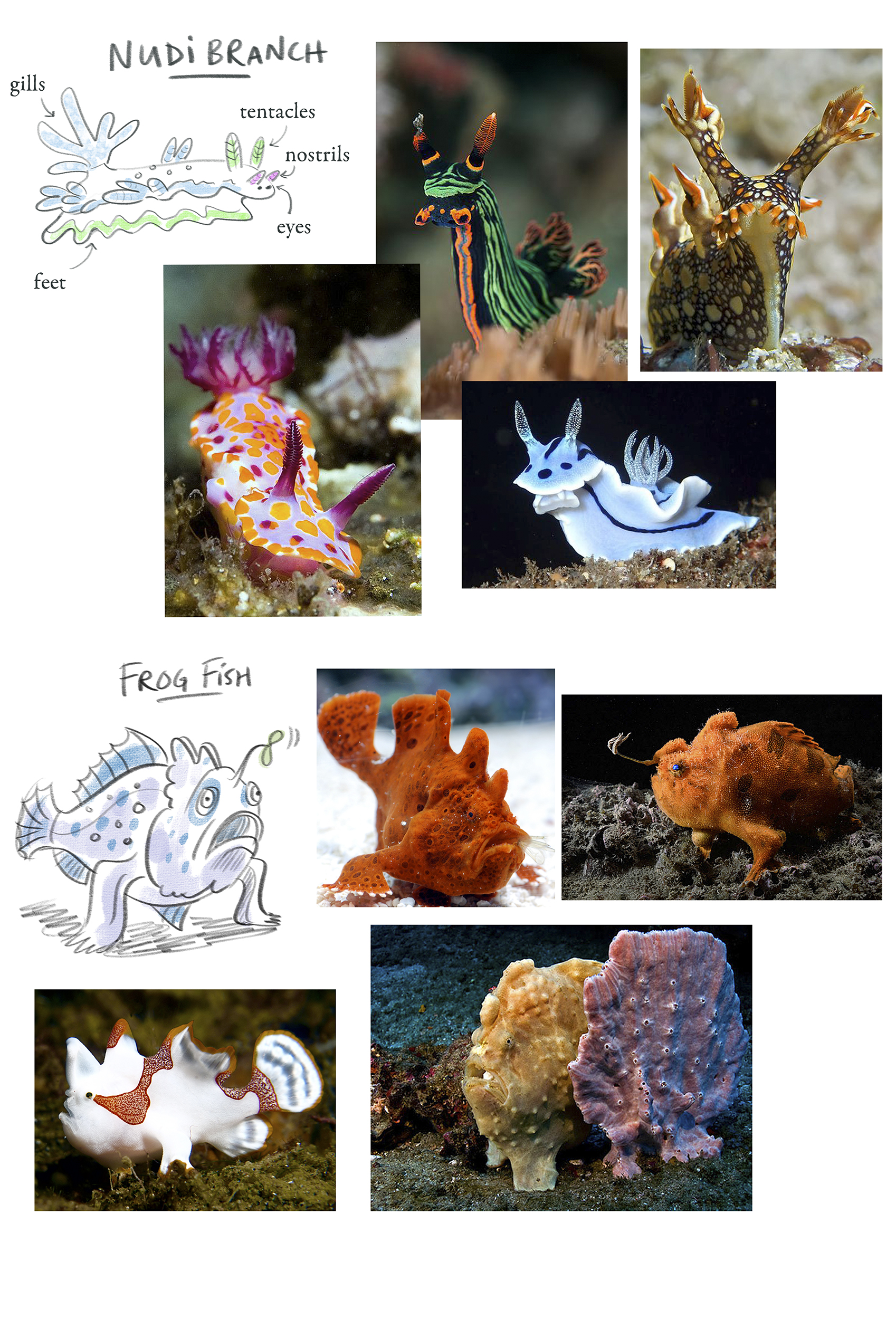 Students are Invited to Share Their Work on Instagram